From Huntersville To Mooresville & All Points Inbetween We Deliver Quality Girls To Your Home or Rental
Nothing could be better than a weekend at the lake; make it out of this world with energetic exotic dancers. Sure you can have a party with out stripping cuties, but would it be as fun? North Carolina Stripper is Lake Norman and the Carolina's Adult Entertainment Headquarters. We are a local NC stripper service company that serves all of Lake Norman including Mooresville, Huntersville, Cornelius, Davidson and Denver. You can hire our curvaceous cuties for all manner of shenanigans including bachelor party dancers, event hosting, car wash, topless bartending, bikini servers, poker dealers and many other services. Let us provide you with the highest quality local girls at the best prices for the Lake Norman area.
The Top 5 Reasons Lake Norman Is A Certified Bachelor Party Destination
There are new trends for guys weekends in 2018, one of the most popular is bachelor party destinations. Back in the day when you planned a get together with the guys, you would just find a single guy who had a house and got together to watch the game, and maybe order a stripper. Now everyone wants to make it a weekend out of town and Lake Norman has become a popular place to throw your bachelor party. Here are some of the reasons why.
Feels Out Of The Way Yet So Close To The Action
With a surface area of 50 square miles and over 520 miles of shoreline ,it would take you all summer to explore all of it. So vast it has been referred to as an "inland sea" it's hard to believe you're just outside of Charlotte, NC. Enjoy the best of both worlds with the calmness of the lake and at night the hustle and bustle of a vibrant city less than 30 minutes away.
A Scenic Lake Just Made For Sailing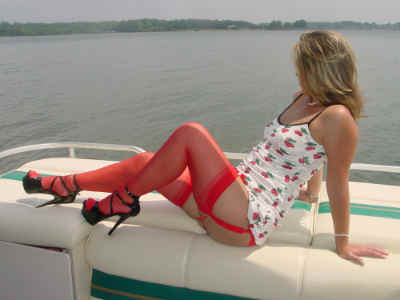 If you just want to spend a day partying on a pontoon boat in Mooresville or relaxing on a fishing boat in the western part of the waterway, then there is no better place than Lake Norman. There are many public access points for your boat or you can rent one at Westport Marina. You can do it all at Lake Norman State Park anytime of the year because of the moderate seasonal Charlotte area temperatures. Fish, boat, water ski, swim, hike, enjoy the great outdoors in one of the most scenic locations in North Carolina. The lush and magnificent park is a popular local attraction and you can be sure to see some of the finest in Carolina girls enjoying the premises in their micro bikinis.
The Golfing Is Pretty Spectacular
Just because you're a land lover doesn't mean you can't have a good time during the day at the lake. There are
18 golf clubs around Lake Norman
. One popular option for the public course that the locals love is the
Westport Golf Club
in Denver, NC. Anyone lucky enough to have a membership to the Northstone Country Club in Huntersville, NC will have access to a stunning course that was rated #1 by Charlotte Business Insider. You don't have to go to
Pinehurst
to have a challenging golf weekend with the guys when Lake Norman has more than it's share of world class golf course.
You Don't Have To Get Off The Boat To Enjoy The Nightlife
I exaggerate slightly, you will have to get off your boat to enjoy Lake Normans only
Floating Dock Bar
being the Queens Landing complex in Mooresville, NC. There are plenty of boat slips to dock and the bar is hopping. If you're looking for more land based entertainment, then the Irish Cue in Cornelius, NC is the biggest and classiest pool hall in the area.
There comes a time during every bachelor party when someone mentions strippers. There are two options for viewing stripping women and camel toes. You can go to a strip club, and believe it or not there is a
gentlemen club in Mooresville
. If you're used to going to clubs in major cities, then keep in mind that this club - like most North Carolina clubs - are topless air dances only. Do you want to see something a bit more lascivious at your private location? The house call strippers are the way to go.
North Carolina Stripper
in the premier adult entertainment service for the Lake Norman area. They are known for their reliability, honest service and most of all fun, happy party girls that bring the bachelor party experience direct to your rental or Airbnb. Get a
Lake Norman stripper
for the complex bachelor experience!